ACEPartner - Digital Science and Technology Network - DSTN
DSTN brings together ACEs working in digital science and technology (informatics and mathematics) to address the challenges posed by the digital transformation of science, the economy and society as a whole. Five scientific priority areas have been identified namely Big Data and Trusted Artificial Intelligence, IoT systems and Software Defined Network in poorly connected areas, Cybersecurity, High-Performance Computing, and Data Science, applied to Health, Agriculture, Environment, Education, and Smart Cities.
Theme: Digital Science and Technology for Sustainable Development in Africa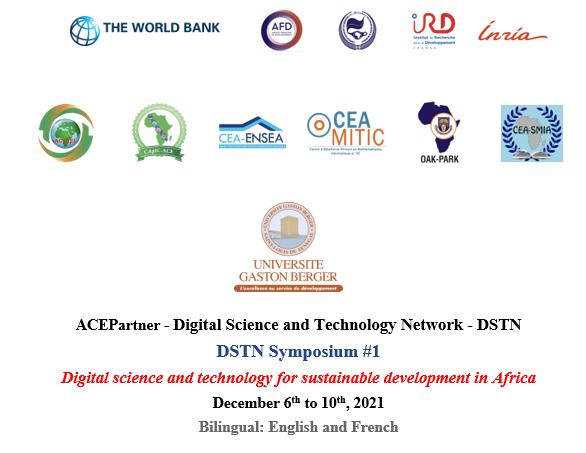 Introduction
The Digital Science and Technology Network (DSTN) organizes its First Symposium open to the private and socio-economic sectors on the theme of "Digital science and technology for sustainable development in Africa". This symposium brings together the African Centers of Excellence (ACE) in digital sciences and technologies and their partners, with industry, socio-economic actors and international collaborators, to share experience, practices and innovation in digital science and technology for Africa's sustainable development.
We aim to bring together the major players of the current African digital transformation to address how research, innovation, entrepreneurship, and technology/knowledge transfer can address major development issues (health, agriculture, digital learning, cybersecurity…).
The expected output of this event is to build long lasting and ethical collaborations between our network of African and international academia with public and private stakeholders on research and development projects addressing major development challenges through digital transformation.
The program of this Symposium were designed to:
Present and promote the activities of the DSTN in collaboration with different actors of the digital development in Africa, through thematic sessions and presentations.
Stimulate exchanges between academic, enterprise and socio-economic actors, through round tables and visits.
Produce recommendations of the participants on the role of digital science and technology for a sustainable development in Africa (state of the art and perspectives) for policy makers, enterprises, and academic institutions.
Venue:: Gaston Berger University Incubator, Senegal
Date: DECEMBER 6 – 10, 2021.
contact:
dstn@ird.fr
Website:
ACE Partner Website
Twitter:
@DSTN_ACEPartner