Introduction
The Covenant University CApIC-ACE in partnership with Inria (French national research institute for digital sciences) and ACE-Impact DSTN with the support of Agence Française de Développement (AFD) is organizing a two weeks' workshop on High-Performance Computing (Basics and Intermediate).
The workshop aims at bringing system administrators who are currently managing High-Performance Computing (HPC) infrastructure in their various research/higher education institutions to the state-of-theart technologies in HPC. Interested faculty members and postgraduate students in the national and regional African Centers of Excellence (ACEs) can also attend.
It is expected that the knowledge that will be garnered from the workshop will drive efficiency and maximize the effectiveness of HPC technology in the Sub-Saharan African countries.
The objectives are:
Acquire skills on the provisioning and allocation of HPC services, consistent with the required technology and within a functional service framework.
Learn how to set up open-source distributed storage, block storage and file system
Explore innovative methodologies and solutions to improve the efficiency of data storage and the effectiveness of data analytics
Provide secure HPC enterprise services.
Provide an avenue that enables the exchange of knowledge among System Administrators from different research institutions in the Sub-Saharan Africa.
Develop integrated enterprise-wide competency to recognize, plan, and evaluate emerging technologies for future acquisitions.
Venue:: CApIC-ACE, CUCRID 4th Floor, Covenant University, Km 10, Idiroko Road, Canaanland, Ota, Ogun State, Nigeria.
Date: MAY 17 – 28, 2021.
Registration: Closed
Who's It For? Candidates of this workshop are System administrators managing HPC machines aiming to increase their repertoire of skills.
Prerequisites for the courses: Good knowledge of Linux, Networking etc.
Course outline: see the table below.
1st HPC Workshop @ CApIC-ACE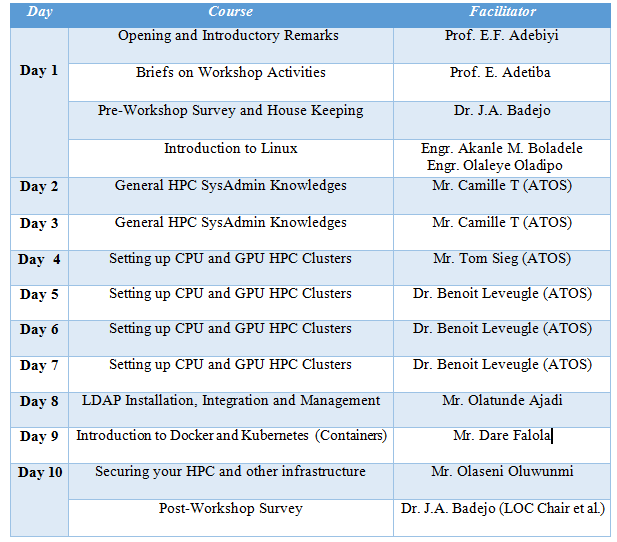 For enquiries contact:
ace@covenantuniversity.edu.ng